© 2023 Georgia Symphony Orchestra
Please take a moment now to ensure your device is in silent mode.
Audio and video recording is prohibited. 

Thank you and enjoy the performance!
A Day With Disney
Nov. 11, 2023
Click any text below to jump to the section indicated. Or you may scroll through the entire contents. Buttons appear throughout to bring you back to this content section for easier navigation.
The Georgia Symphony Orchestra is supported in part by the Georgia Council for the Arts through the appropriations of the Georgia General Assembly. The GCA also receives support from its partner agency – the National Endowment for the Arts.
Georgia Symphony Orchestra Upcoming Events
It is through the sustained generosity of our supporters that the Georgia Symphony Orchestra is able to continue delivering quality enrichment, entertainment and education throughout our community and greater region, encompassing music and arts lovers of all ages.

Our growing list of programs supports a wide range of needs in the community. Just a small sampling of the diverse options includes young musician education, inclusiveness in the concert hall, veterans' support, free and affordable concert tickets, community presentations, and collaborative promotion of other outstanding nonprofit organizations.

Combining your giving with a musically infused GSO program doubles your impact in the community. Donating to the GSO is easy. Visit us at georgiasymphony.org/donate. Or call 770-615-2908.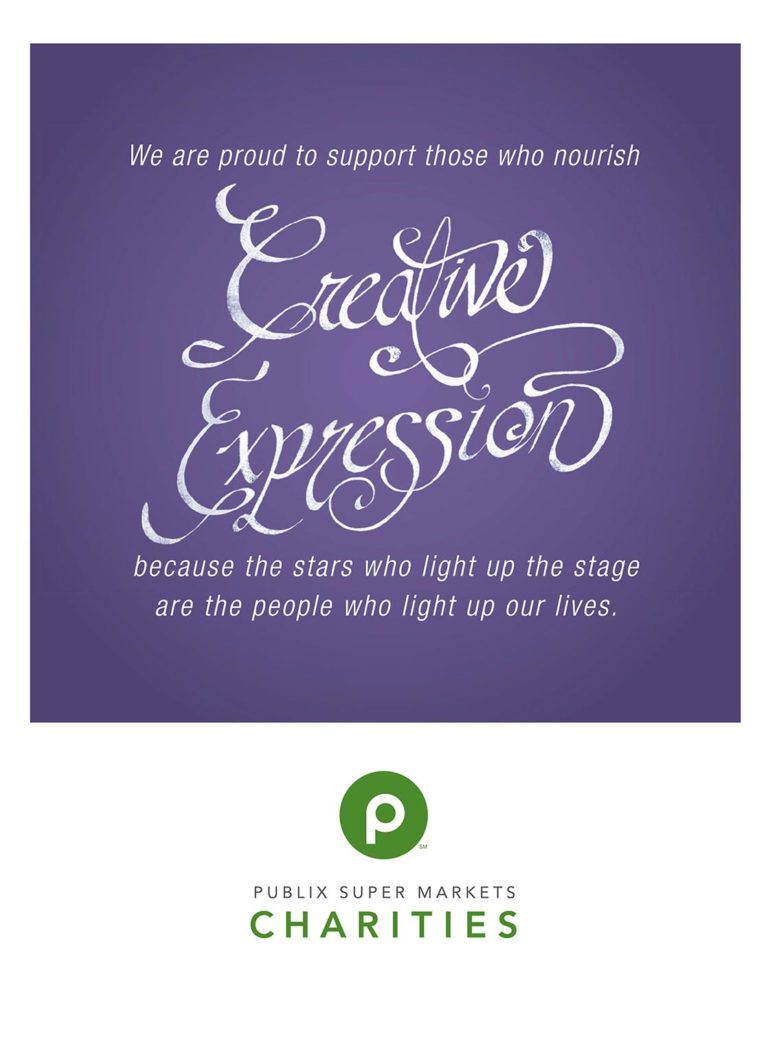 Special Thanks to the Bobbie Bailey Foundation
for their gift of a $1 Million Dollar Endowment Fund
The GSO is sincerely grateful for the substantial support of our youth education program given by:
Gold Baton Circle $15,000-$24,999
Aegon Transamerica Foundation • Bobbie Bailey Foundation Georgia Council for the Arts • Marietta Tourism Grant • National Endowment for the Arts • The Imlay Foundation
Silver Baton Circle $10,000-$14,999
Linda and John Cooke • GreyStone Power Foundation • Publix Super Markets Charities
Bronze Baton Circle $5,000-$9,999
Bob and Linda Bonstein • Kimberly Gresh • Pamela Hubby • Marietta Kiwanis Foundation, Inc • John and Shirley Morgan • Sydney Trew
Conductor's Circle $2,500-$4,999
Anonymous • Anonymous • Cobb EMC Community Foundation • Mary Kay Howard• Tutt and Debbie McCracken • Valencia McCrimmon • Gregory and Christine Mishkin • Nora Roberts Foundation • Pam and Bruce Rhyne • Jeffrey and Louise Tharp • See Beautiful • Susan Traendly 
Principal Circle $1,000-$2,499
Anonymous • Anonymous • Barbara Barr-Howell  • Cindy and Henry Bohn • Gift of Music Foundation • Frank Harris & Abby Avery • Ann Hixson • Marianne Holdzkom • Michael Knowles • Joanne Mazula • Randall & Judith Ribarsky • Ronna Ruppelt • Ann Teeter • Jeffrey & Suzanne Tucker • Kelly & Lynn Thomas 
Musicians Circle $500-$999
Anonymous • David and Leta Barry • Bernard Brown • Clifford McCune • Bruce Gillett • Home Depot • Kimberly-Clark Foundation • Regina Malloy • Oral Moses • Georgia Rambo • Kate Pfirman • Sandra Schell • Alberto Sapoznik • Sandra Schell • Dwight Shoemaker Family • Alan and Susan Stensland
Concertmaster Circle $250-$499
Anonymous • Dame Bamburry • Allan Cheshire • Costco SE Regional Donations David Hembree • Paula and Grainger Morrison • Vianne Satterfield • Marge and Robert Schulhof • Peter and Marian Sebel • Burt and Sharon Stills • Pat and Gilberto Torres • James Wetrich • Belisa Urbina • Wallace Ziprik
Anonymous • Anonymous • Anonymous • Alenia Baxter • Marie Boatright • Kristen Bonstein • Marilyn Brooks • Stacey Carlsen • Katherine and James Chester • DK Gallery • Stephen Drabant • Fidelity Charitable • Priscilla Granese • Barbara Hammond • Nancy Hodges • Thomas LaForge • Emily Lembeck • Berna and Noah Levine • Brenda Lyle • Beverly Martin • James Martin • Karen Milchus • Greg Moor • Emory Morsberger • Bill and Sara Needs • Mary Nimsgern • Yvonne and Michael Perrino • Trevor Phillips • Jane Redwine • Brenda Rhodes • Al and Laura Searcy • Beth Simpson • Amy Smith • CB Smithwick • Robert Snider • Rodrick Stewart • Josephine Stills • Sandra Timmons • Jo Tucker • John L. and Ann B. Vandevate Charitable Trust • James and Karen Warren • Pauline Webster • Lily WhiteRose • Joseph Yorio • Todd Youngblood 
Anonymous • Lauren Abraham Mahoney •Jacqueline and Robert Downing • Camille Fairbanks • Jonathan Gallant • Elise Goldstein • Sandra Herndon • Sandy Hsieh • Cindy Johnson • Grace Johnson • Nick Johnson • Kil Soo Jung • Darron Kendrick • Kristi Ledford • Wendy Lerner • Russell Marshall •Robert Maza • George Mortensen • Nancy and Gordon O'Neill • Jason Ontjes • Marnell Saunders•  Gary Thomas • Paul Tompkins
ARTS of Cobb • Atlanta Marriott Northwest at the Galleria Hotel • Carriage House Catering •  Chris Savas Photography • Cobb Travel and Tourism • Frank Harris Law • Gift of Music Foundation • Moore Colson CPAs and Advisors • Sercante • Timothy Verville
Barbara Hammond • Mary Kay Howard • Tutt and Debra McCracken • Jeffrey & Suzanne Tucker
Michal Kotzan in memory of Jeff Kotzan
Eileen Paulin in memory of Jeff Kotzan
Linda Acevedo in memory of Jeff Kotzan
Sharon Stills in memory of Helen Mackey, Theresa Ireland, Betty Knautz, Sylvia Peters
Allan Cheshire in memory of Susan Cheshire
Frank Harris in memory of Polly Anna Harris
Joseph Yorio in memory of JoAnn Mary Yorio
Mary Kay Howard in memory of the Grandfather of Sydney Trew
Ron & Staci Martinez in memory of Frances M. Keith
Brenda Rhodes in memory of Joanna Cox
Debra McCracken in memory of Joanna Cox
Susan Stensland in memory of Joanna Cox
Debra McCracken in memory of Frances M. Keith
Grace Johnson in memory of Frances M. Keith
Tish Fricks in memory of Jennifer Whitley
Jeffrey Tharp in honor of the GYSO Jazz Ensemble
Noah Levine in honor of the GSO Chorus
Phillip O'Brien and Allison Fichter in honor of John and Linda Cooke
Nancy O'Neill in honor of Bob and Linda Bonstein
Kristen Bonstein in honor of Bob and Linda Bonstein
Dane Bamburry in honor of Valencia McCrimmon
Marie Boatright in honor of Mary Kay Howard
Alenia Baxter in honor of Mary Kay Howard and Susan Traendly
Brendan Knoblauch in honor of Mary Kay Howard
Susan Traendly in honor of Mary Kay Howard
Sydney Trew in honor of Susan Stensland and Mary Kay Howard
Marian Sebel in honor of Bryan Black
Paula Morrison in honor of Frank Harris
Barbara Hammond in honor of Susan Stensland
Sharon Stills in honor of Susan Stensland
Brenda Rhodes in honor of Susan Stensland
Joan Harrell in honor of Susan Stensland
Martha and Dennis Moore in honor of Susan Stensland
Susan Traendly in honor of Pat Torres
Annonymous in honor of Kate Pfirman
Emily Lembeck in honor of Debbie McCracken
Belisa Urbina in honor of Stephen Hall
Madison Willits
Artistic Operations Manager
Amy McGaughey
Office & Box Office Coordinator
Dalian Bryan
Librarian & Personnel Manager
For information about joining our Board of Directors or Advisory Board, please click here.
Michael Knowles, Chair
Fifth Third Bank
Greg Mishkin, Vice Chair
Escalent
Marianne Holdzkom, Secretary
Associate Professor of History, Kennesaw State University
Sydney Trew, Treasurer
Moore Colson CPAs and Advisors
Amy Drabant
Atlanta Design Solutions
Frank Harris
Frank Harris Law
Pam Hubby
Ret. ArtsBridge Foundation
Debbie McCracken
Ret. Educator/ Administrator
Ronna Ruppelt
CLM Alliance
Todd Youngblood
Ret. Business Executive
Suzanne Tucker, Ex officio
Georgia Symphony Orchestra
Timothy Verville, Ex officio
Georgia Symphony Orchestra
Dr. Jeffrey Tharp
Wellstar Medical Group
Jim Glover
Atlanta Fine Homes Sotheby's International Realty
Patricia Torres
Ret. Development Director GSO
Susan Stensland
Past Executive Director GSO
The John and Linda Cooke GSO/KSU Bailey School of Music Collegiate Scholars GYSO Internship Program
KSU Site Coordinator
Laz Divine
KSU Interns
Alex Wilson
Tyrell Smith
MPAC Site Coordinator
Kamaya Locke
MPAC Interns
Gustavo De la Torre Martinez
Allen Yun
GYSO Jazz! Intern
Giana-Marie Kleber
GSO Chorus Site Coordinator
Leo Jahn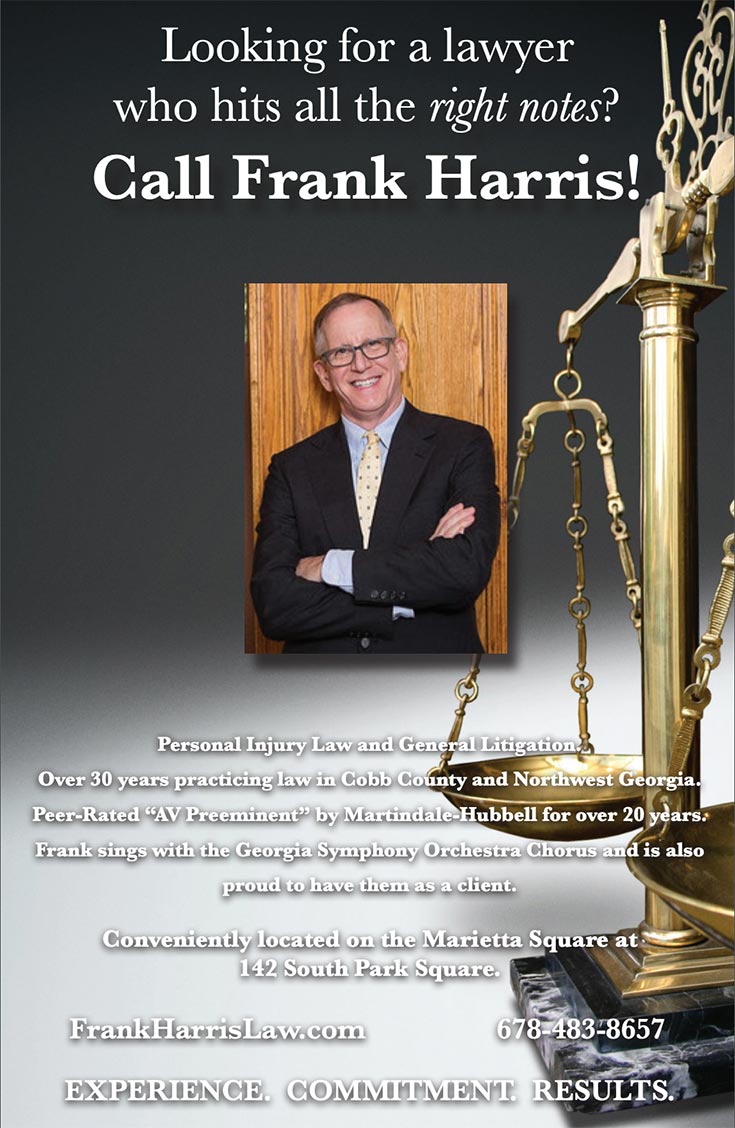 Founded in 1951, the Georgia Symphony Orchestra has engaged audiences through imaginative programming, visionary leadership, and critically acclaimed performances.
The mission of the Georgia Symphony Orchestra is to enrich our community through accessible, high quality musical and educational experiences that instill a lifelong appreciation for the arts.
Our vision is to continue growing a thriving and innovative cultural organization that enriches, educates, and inspires audiences, students, and musicians in the community.
Musicians (From Professionals To Students) Performing In Our Organization
More than 26+ Events Presented To the Community This Season
Over 17,000 People Are Served By Our Programs Annually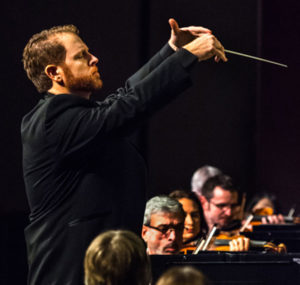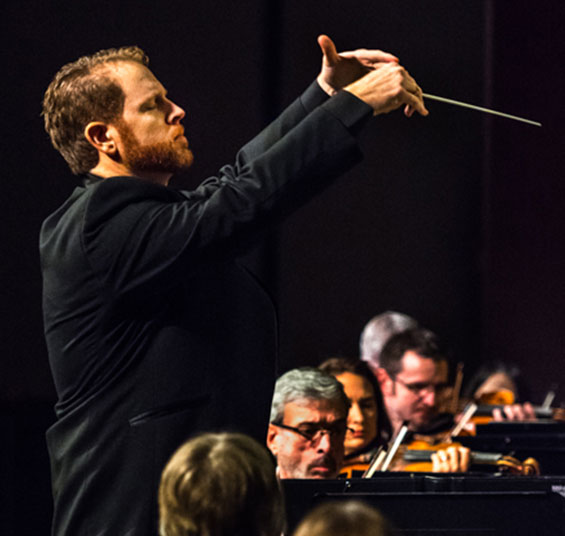 The award-winning Timothy Verville's performances are hailed as "awe-inspiring" and for "bringing down the house" (Atlanta Arts Scene). He is praised for possessing "finely focused conducting, (in which) the energy and pace of the music never sagged" (Tulsa World). A creative force, his innovative, imaginative, and musically engaging approaches in the concert hall position him as a uniquely multifaceted and multi-talented conductor of the modern orchestral world.
Verville conducted the inaugural Kyushu International Festival in Japan and has performed with the Kyushu Symphony Orchestra, Hita Civic Orchestra, the Chikushi Jogakuen Philharmonic Orchestra, and the Kyushu Philharmonic Orchestra. In Central America, he has appeared with Opera Panama and the Panamanian National Symphony Orchestra, and in Russia with the Far Eastern Symphony Orchestra.
He has led performances with orchestras and theater ensembles across the U.S. including the Tucson Symphony Orchestra, Richmond Symphony Orchestra, West Virginia Symphony Orchestra, Columbus Indiana Philharmonic, Hendersonville Symphony, Signature Symphony (Tulsa), Symphonicity: The Orchestra of Virginia Beach, and the Southwest Michigan Symphony Orchestra.
Since 2016, he has served as Music Director and Conductor of the Georgia Symphony Orchestra. His focus on audience engagement and outreach has been recognized throughout the community and in the League of American Orchestra's "Symphony" magazine. His creative and collaborative programming has expanded the organization's performance footprint and served to build bridges to underrepresented populations. In addition to conducting classics, pops, and special performances, he designs the Sensory Friendly concerts which have been supported by National Endowment for the Arts.
In 2007, Verville began a relationship with the Boston Chamber Orchestra that would encompass over a decade of music-making. Beginning as an instrumentalist in the orchestra, he was invited to become Associate Conductor and later Principal Guest Conductor. During his tenure, he toured internationally with the ensemble and recorded music for the orchestra's first CD release.
In Phoenix, he served from 2010 to 2017 as the founding Artistic Director and Conductor of Arizona Pro Arte. His presentations of unique and highly anticipated collaborative events resulted in exponential organizational and audience growth. During his tenure, the orchestra expanded to include a regular masterworks season, a summer orchestral series, educational performances, a chamber music program, a dance ensemble, and established a composer in residence. He instituted an annual "Call for Scores" competition that at its height received over 920 applicants from forty countries in a single season.
Additional previous engagements include Music Director and Conductor of the North Valley Chamber Orchestra (AZ), Scottsdale Baroque Orchestra (AZ), and Conductor of the Pollard Theatre (OK).
Verville regularly commissions and conducts regional, national, and world premiere compositions which encompass operatic, symphonic, and dance music. He has counseled young and emerging composers across the country and worked with the Tucson Symphony's "Young Composers Project," which Yo-Yo Ma praised as an "extraordinary program."
An award winner in the American Prize for Orchestral Performance, Verville was mentored by esteemed conductors Bruce Hangen, Timothy Russell, and James DePreist. He worked in masterclasses with David Effron, Markand Thakar, and Neil Varon. At the renowned Monteux School and Music Festival, Verville was selected as an orchestral assistant while studying with Michael Jinbo.
Verville earned degrees in music from the Boston Conservatory, the University of Oklahoma, and Arizona State University. He resides in Georgia with his wife and children.



Nathaniel F. Parker​, Associate Conductor, Dr. Bobbie Bailey GYSO Artistic Director & GYSO Symphony Director​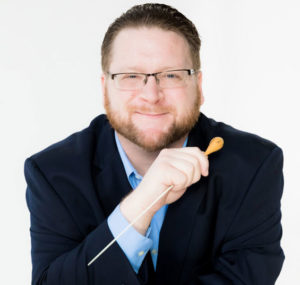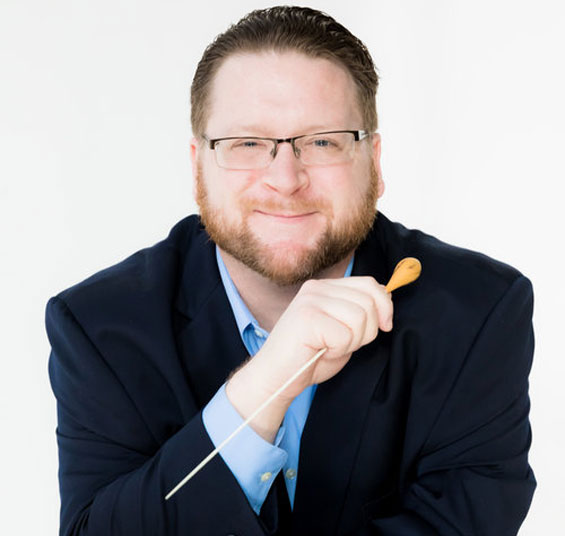 A talented and versatile musician, Nathaniel F. Parker has conducted orchestras in the United States, Peru, Russia, Poland, England, and the Czech Republic. Equally at home working with professionals and training future generations of musicians, Dr. Parker is Director of Orchestral Studies at the Kennesaw State University School of Music—serving as Music Director and Conductor of the Kennesaw State University Symphony Orchestra and Conductor of the Kennesaw State University Opera Program—and Associate Conductor of the Georgia Symphony Orchestra. His recent guest conducting engagements include appearances with the Jackson Symphony Orchestra (Michigan), the Connecticut Music Educators Association (CMEA) All-State Orchestra, the Fulton County High School Honor Orchestra (Georgia), and the Georgia Music Educators Association (GMEA) District 9 High School Honor Orchestra.
Dr. Parker is the recipient of numerous honors, awards, and scholarships. He was named a finalist for a Conducting Fellowship with the New World Symphony, a semi-finalist for a Conducting Fellowship at Tanglewood, and a Candidate for the Respighi Prize in Conducting; he also received a Citation of Excellence in Teaching from the Pennsylvania Music Educators Association. An active scholar, Dr. Parker's writings have been published by the Conductors Guild and the College Orchestra Directors Association (CODA). He has presented research at the College Orchestra Directors Association's national and international conferences and is Editor of the Journal of the Conductors Guild.
Dr. Parker has served as Music Director and Conductor of the Concert Orchestra and faculty at New England Music Camp (Maine), and Interim Music Director and Conductor of the Georgia Youth Symphony Orchestra's (GYSO) Symphony and Camerata orchestras. Before relocating to Georgia, he was Director of Orchestral Activities and Assistant Professor of Music at Marywood University (Pennsylvania) where he was Music Director and Conductor of the Marywood University Orchestra and taught courses in conducting, instrumental methods, musicology, and analytical techniques. Other previous positions include Associate Conductor and Production Manager of the Jackson Symphony Orchestra (Michigan), Music Director and Conductor of the Jackson Youth Symphony Orchestra, Director of the Jackson Symphony Orchestra Community Music School, Graduate Conducting Intern at Michigan State University, Music Director and Conductor of the Mason Orchestral Society's Community Orchestra and Youth Symphony (Michigan), Assistant Director of Music at Xaverian High School (New York), Conductor of the New Music Festival of Sandusky Orchestra (Ohio), and Graduate Assistant Conductor and Teaching Assistant at Bowling Green State University (Ohio).
Parker earned a Doctor of Musical Arts in Orchestral Conducting from Michigan State University, where his primary instructors were Leon Gregorian and Raphael Jiménez. During his time at MSU he regularly appeared with all the university orchestras and focused his doctoral research on Leonard Bernstein, specifically the composer's Symphony No. 2, "The Age of Anxiety." He earned a Master of Music in Orchestral Conducting from Bowling Green State University, where he studied with Emily Freeman Brown. His other conducting mentors include Stephen Osmond, Gary W. Hill, and Timothy Russell. In addition to his training in academia, Dr. Parker participated in numerous conducting master classes and workshops, conducting orchestras under the tutelage of nationally and internationally renowned conductors and conducting pedagogues including Christoph Eschenbach, George Hurst, Arthur Fagen, Markand Thakar, Mark Gibson, David Itkin, and Paul Vermel. Parker began his collegiate education at Arizona State University, where he studied bassoon with Jeffrey G. Lyman and graduated magna cum laude with a Bachelor of Music in Bassoon Performance.
Nat resides in Kennesaw with his wife, Melody, their son, Jacob, and their dog, Sammy.
For more information, please visit www.nathanielfparker.com
Georgia Symphony Orchestra Personnel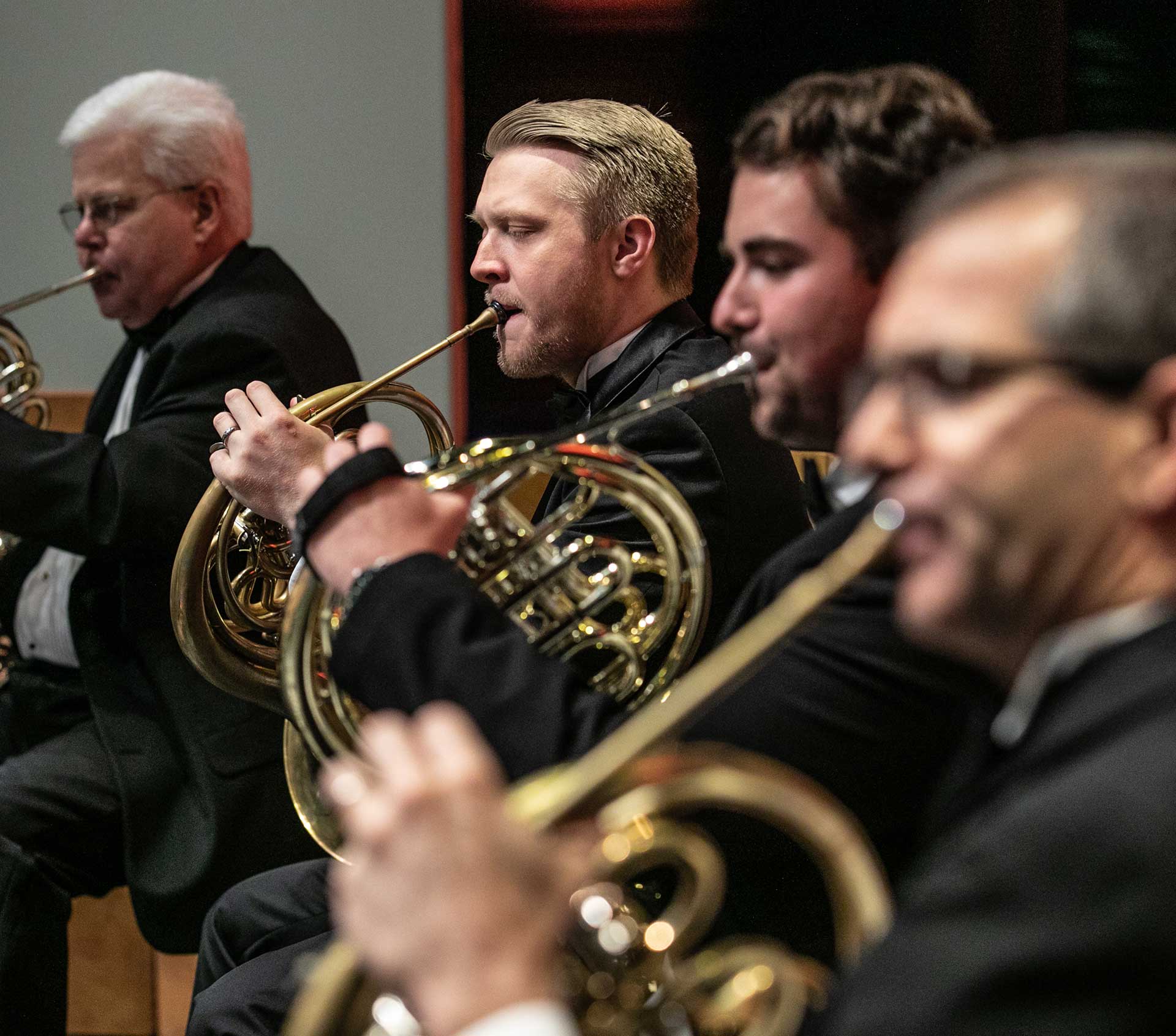 Violin 1
Edward Eanes*
Concertmaster
Robert Givens
Associate Principal
   The Marnie R. Gresh Chair
Heather Hart
Haejin Yoo
Kerren Berz
David Edwards
Andrew Uhe
Barbara Careaga
Melody Bearden
Violin 2
Grace Kawamura Stuart*
Evelyn Champion
Andrew Uhe
Amanda Esposito
Ryan Lavender
Colin Cassell
Jennifer Sersaw
Viola
Meghan Yost*
Greg Selig
Kyle Mayes
Greg Selig
Erin Johnson
Christina Esposito
Mary Koves
Dave Miller
Blake Wright
Cello
Alexandria Rice Haines*
Natallia Isabel
Wesley Holmes
Dwayne Wasson
Megan Deason
John Howell
Double Bass
Bob Goin
Moe Winograd
Robert Lysse
Maximilian W Simmons
Flute/Piccolo
Jeanne Carere *
Frankie Cavanah
Dana Meyer
Oboe
Natalie Beckenbaugh*
Alexander Zhang
Katie Smith – English Horn
Clarinet
Justin Stanley *
Taras Chemerytsia
Bass Clarinet
Daniel Barker
Bassoon
Debby Grove *
Dan Worley
Contrabassoon
John Grove
French Horn
Jason Eklund *
Mackenzie Newell
Eric Hawkins
Scott Sappington
Trumpet
Alexander Freund*
Paul Poovey
Brandon Hall
Trombone
Tavish Daly*
Jennifer Mitchell
Dalian Bryan
Phil Truex
Tuba
Greg Rowell*
*  denotes section principal
Harp
Julie Koenig*
Ellen Foster
Piano
Erika Tazawa Jenkins
Percussion
Jeffrey Kershner*
Greg Roman
Dakota Reeves
Timpani
Karen Hunt *
The John and Linda Cooke Chair
*  denotes section principal
Musicians performing in this production are represented by the American Federation of Musicians of the United States and Canada.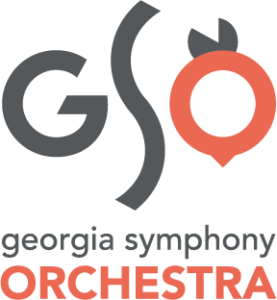 Sensory Friendly Performance
November 11, 2023
2:00 PM
Marietta Performing Arts Center
John Williams  
Raider's March from Indiana Jones 
Alan Menken/Parson  
Beauty and the Beast
Zimmer/John/Rice/Parson  
The Lion King 
Jimmie Dodd/Parson  
Mickey Mouse March 
Alan Menken/Parson  
The Little Mermaid 
John Williams/Bulla  
Star Wars Through the Years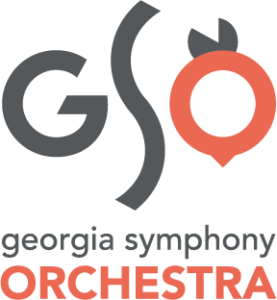 November 11, 2023
4:00 PM
Marietta Performing Arts Center
with JB McWhorter, guest conductor
John Williams  
Raider's March from Indiana Jones 
Alan Menken/Parson  
Beauty and the Beast
Zimmer/John/Rice/Parson  
The Lion King 
Jimmie Dodd/Parson  
Mickey Mouse March 
    JB McWhorter, guest conductor
Alan Menken/Parson  
The Little Mermaid 
John Williams/Bulla  
Star Wars Through the Years