GSO Chorus
Join Us For Open Rehearsals!
We understand auditions can be daunting, especially if you've had a little time off from singing during the pandemic. So we invite you to come as you are and attend our open rehearsals! This season we will perform amazing music by Whitacre, Coleridge-Taylor, and Orff's epic Carmina Burana with the Georgia Symphony. Aside from major classical works, we also perform on one of Cobb County's beloved annual traditions, the GSO's Holiday Pops!
If you like, you can drop us a line letting us know you're coming by clicking here OR just show up!
Open Rehearsal Dates:
August 16 & 23, 2022 at 7:30 PM
Open Rehearsal Location:
Marietta Performing Arts Center
1171 Whitlock Ave NW
Marietta, GA 30064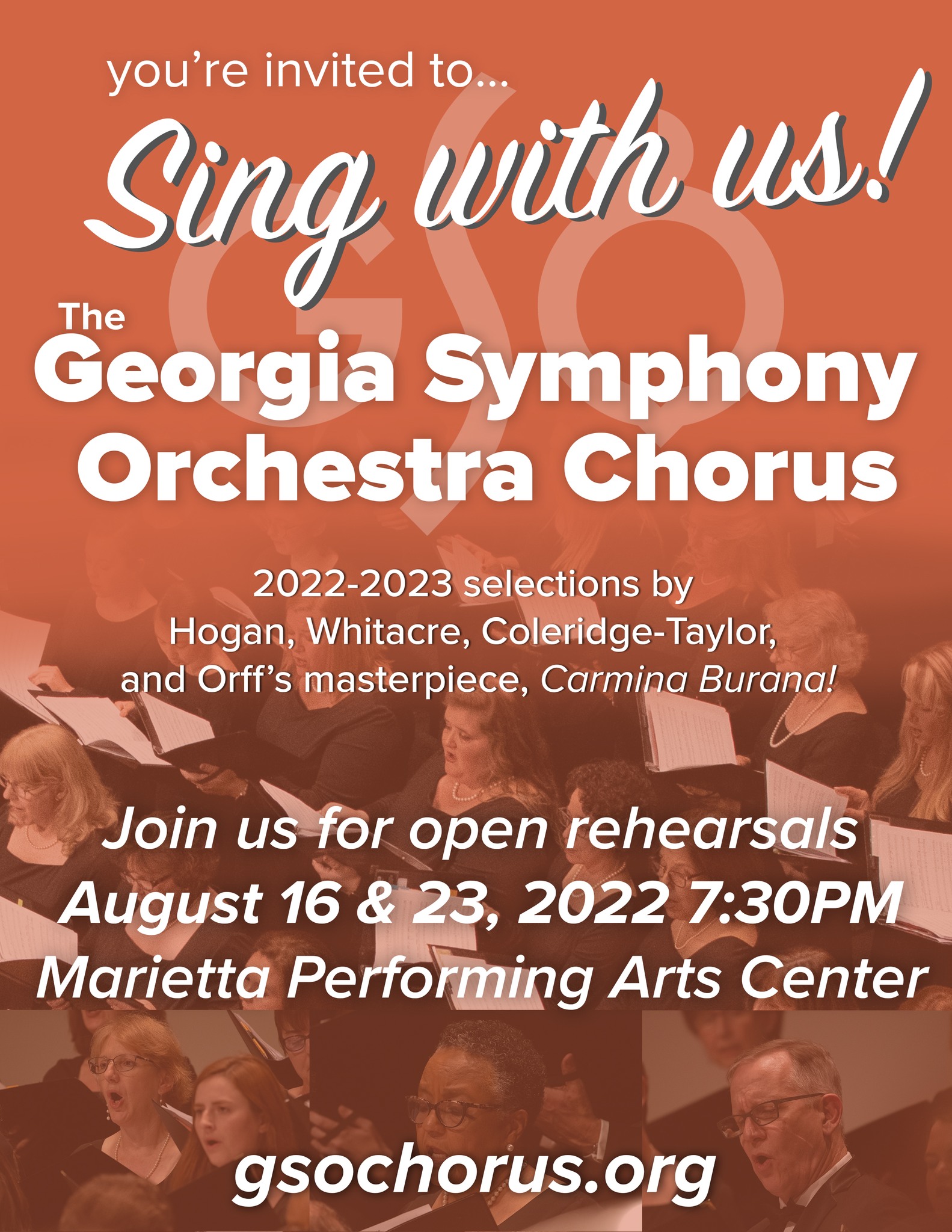 Encompassing a wide range of vocal versatility, the Georgia Symphony Orchestra Chorus performs choral/orchestral works, pops, and produces independent choral concerts. Highlights from recent seasons include choral masterworks with the Georgia Symphony, being featured on a GSO Jazz! performance at the Strand Theatre, singing in a sold-out concert of music from the video game "Zelda," and presenting a historic regional premiere of American music.
Comprised of accomplished vocalists from the greater metropolitan area, performances have included Mahler's Second Symphony, Vaughan Williams' Sea Symphony, Orff's Carmina Burana, Haydn's Creation, and Verdi's Te Deum. The ensemble has also presented state, regional, and world premieres.
Founded in 2007, and directed by Bryan Black, the chorus recently performed with the Morehouse College Glee Club, the Spelman College Glee Club, the Uzee Brown Society of Choraliers, and the Georgia Spiritual Ensemble.
For information regarding opportunities for young singers, and information about the Georgia Youth Symphony Orchestra Chorus, please visit gyso.org.