Nirav Patel is a skilled, board-certified plastic surgeon with a wealth of experience. He's also been one of the GSO's musicians for the past five years. A member of the cello section, Nirav sat down with Suzanne Tucker, our executive director, to talk about his love of the cello, music, and the GSO. 
 Q: Tell me about you and the cello – how long have you played?
 Nirav Patel (NP): I actually started with the piano first, around age 5; and I did the world a favor and quit when I was 11. But the cello I picked up, like a lot of people do, in elementary school. I think the action of doing different things with your arms, as opposed to the piano, just seemed to sync really well with the way my brain is wired. So I think it was meant to be. 
 Q: How were you introduced to the GSO?
NP: My medical training brought me to Atlanta in 2018 and I set up my initial practice in Marietta. I was looking for an organization close to home, and when I heard about the GSO, my immediate thought was "I have to audition for this group." 
As my involvement grew, I was invited to play not just the regular symphonic stuff, but some outside gigs. Like the Roy Orbison hologram tour we did at the Fox Theater…that was one of the strangest and coolest gigs I've ever done in my life. 
I just think it's really neat that it's a true community orchestra; it's not just amateurs, but also some serious professionals and semi-professionals. A nice mix of people who represent Atlanta and greater Georgia.
 Q: Do you have a favorite GSO memory or experience?
 NP: We did Tchaikovsky's 4th Symphony last year. Very challenging…The Orbison gig was phenomenal. It got me some street cred, even in my plastic surgeon community, that I played at the Fox. 
 I think anytime we do something at KSU it's really special, not only because GYSO is tied into the university, but because we get an outflow of recent grads who play with us. 
 We did that OkCello premiere, which as a cellist I'm biased, but it was pretty incredible. Okorie is an amazing performer and educator. So many things come to mind!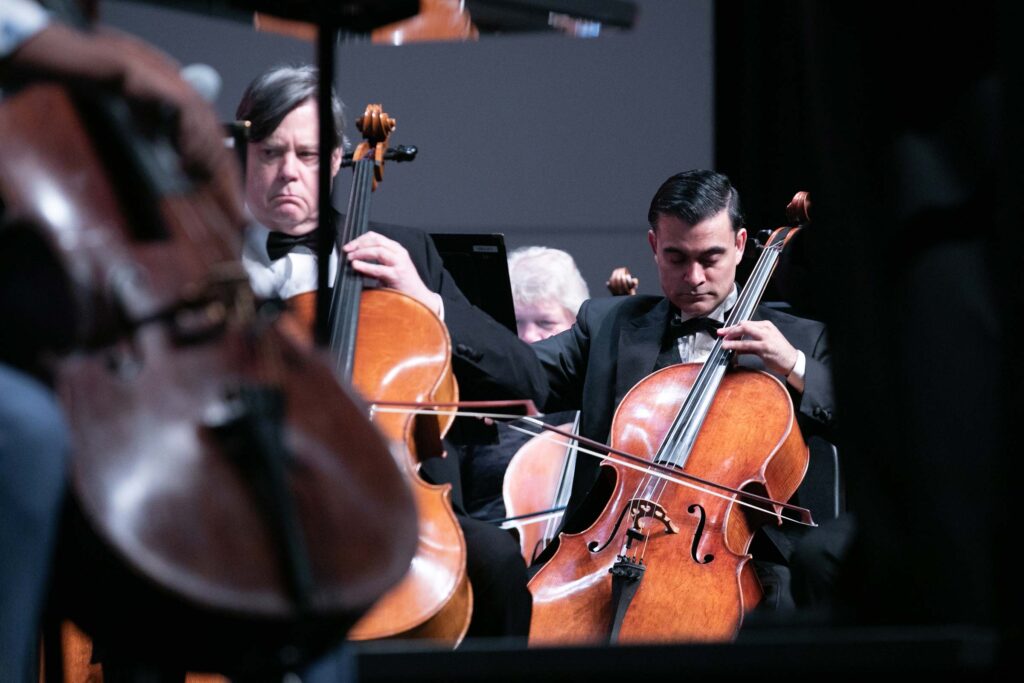 Q: I've been thinking a lot about the power of music to connect us. We live in such a disconnected society where we work from home, or stay in our offices, meet virtually, watch movies on little phone screens. We have a lot of opportunities to be disconnected but I think music, especially live music, has such a powerful way of connecting people. I'd love to hear your thoughts on what makes music such a powerful force for connection.
NP: Everybody says this, but it's a truism that music is the universal language. It can always unite people. Whether it's traditional repertoire, new music, stuff people haven't heard in a long time, or a brand new premier I think organizations like the GSO, who blend all of those types of repertory together, serve the community by making the music accessible to everyone. 
 I'm seeing lots of arts programs, especially classical music, getting cut out of public school programs. I got involved with the cello because I got to try the instruments out in 4th grade at my school. My kids picked their instruments out back in California at an event like our Instrument Petting Zoo we do at our Sensory Friendly Concerts. The kids who are in GYSO have access to hear the GSO, GSO Chorus and GSO Jazz! as part of their curriculum. So the fact that GSO offers this stuff outside of the structured school curriculum I think is hugely vital. Access is everything. It's how I picked my profession…I had access to professors in my field. I think the same thing applies in music. It can't just be in the school. It has to be outside in the community as well. 
 Q: If you were talking to someone else about becoming involved with the GSO, what would you tell them?
NP: I think the first thing I would do is encourage them to just come to a concert. It's not a break-the-bank thing like going into the city to catch a concert. It's very affordable to come to the GSO and there are so many concerts and opportunities. It's a great way to get to know the organization. 
I think once somebody attends a concert, whether it's a traditional symphony, Sensory Friendly Concert or a chorus collaboration, that's when people realize
we have great, high-quality classical music
right here in Cobb County.
You don't have to go inside the perimeter to get those kinds of world-class performing opportunities.
For over 72 years, the GSO has been dedicated to serving our community through musical enrichment and education. From scholarships for students in our youth orchestra, to providing sensory friendly concerts and outreach into underrepresented populations, we responsibly steward your donations to have the greatest impact across all of our programs.